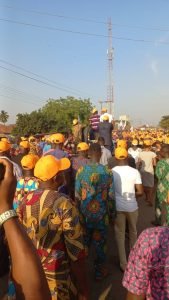 2023: Thousands Troop Out In Okeagbe Ward To Rally Support For BTO, Other APC Candidates
By Aluta News
05, 2022
Members of the All Progressives Congress (APC) and Supporters of Rep. Olubunmi Tunji-Ojo in Okeagbe Ward 3, Akoko North West Local Government area of Ondo state trooped out in their thousands to hold solidarity rally for the Lawmaker and other candidates of the party.
The rally was well attended by party and community leaders in the ward alongside various support groups.
The convener of the rally and a former Special Adviser to Ondo state Governor on Youth Affairs, Cheif Muyiwa Asagunla stressed the need for the solidarity rally to show appreciation for the incredible performance of the lawmaker.
According to him, "BTO has done us proud in Okeagbe. We are proud of the fact that we can call him our son.
"If you stayed in Akoko before 2019, you would notice the infrastructural deficit in the Federal Constituency. The story is different now. Many of our roads are now in good and motorable condition.
"New classrooms have been built for our kids to learn. Free UTME forms for 2,000 students so far. We now have access to portable water unlike past situations where you have to trek long distance to get water from the river.
"The only way we can reward a performing representative is to show him massive support and also transfer this support to any of his candidates. This is what we are doing today and in 2023, we will vote massively for him.
Also at the event, the Executive chairman of Akoko North West Local Government, Elder Samson Akande noted that apart from reflecting BTO, the people must also support his candidates to make his work easier.
Others present at the event include the local government party Chairman, Kehinde Obanla (Ajapara) and other party leaders.