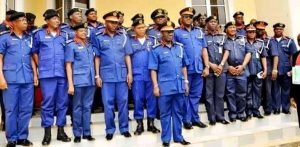 By Gambo Jagindi
February 9, 2020
No salary fraud in NSCDC but deduction of overpaid by IPPIS- Management
The management of the Nigeria Security and Civil Defense Corps (NSCDC) has described as 'unfair' to accuse its Comptroller General, Abdullahi Gana Mohammed of deducting staff salary, explaining that the affected personnel were overpaid in the previous payment and the Integrated Personnel and Payroll System (IPPIS) decided to remove all the said overpaid in January.
The Corps said that the business of salary payment is that of the Accountant General of the Federation (AGF) and not that of its Comptroller General.
There were reported allegation of embezzlement against the NSCDC barely one week after the payment of January salary by the office of the Accountant General of the Federation through Integrated Personnel and Payroll System (IPPIS).
In a statement signed by its spokesman, Okeh Emmanuel, and made available to newsmen Sunday in Abuja, cautioned its staff to seek information instead of making unnecessary allegations against its management.
"The deductions experienced in January salary by some personnel of the Corps was carried out exclusively by IPPIS to recover all the funds overpaid by them to some staff in December due to system error and now, IPPIS has deducted the overpayment in full back to government coffers in January.
It is therefore unfair to accuse the Corps leadership of tampering with the salary of personnel when in actual fact the CG is making concerted effort to ensure better welfare packages and other deliverables for his personnel because they are his topmost priority.
"The CG is therefore cautioning his personnel especially those who are not well informed to endeavor to seek information from the right sources and avoid hearsays whenever issues are not clear to them rather than casting aspersion on its leadership which stood firm to ensure that the Corps partakes of the minimum wage and subsequent arrears payment in December last year.
"The administration of Abdullahi Gana Mohammadu is committed to staff welfare, training and manpower development among others and will continue to do its best to sustain the good name of the organization.
According to the statement, the allegation of fraud and embezzlement of personnel's salary "is totally unfair, baseless and unfounded and therefore, should be disregarded."
The spokesman said the salary deduction "is not peculiar to NSCDC and other paramilitary services alone but it also affected some core civil servants as well and IPPIS office is open for anyone who may require further clarifications."