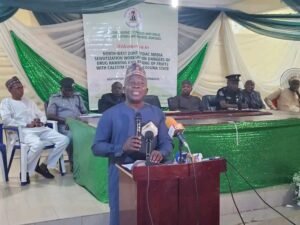 NAFDAC calls on residents to desist from artificially ripening fruits with calcium carbide
By NAN
July 25, 2023
The National Agency for Food and Drugs Administration and Control (NAFDAC) on Tuesday have called on Nigerian to desist from consumption of artificially ripening fruits with calcium carbide.
The agency Director of Evaluation Research, Mr Leonard Omokpariola make the call on Tuesday in kaduna while presenting his paper at a sensitisation workshop on Dangers of Drug hawking and Ripening of fruits with calcium carbide for North West ,health journalist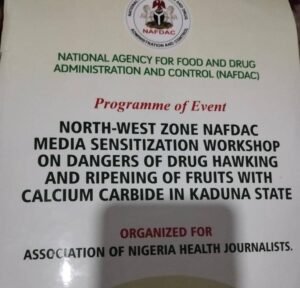 He said, although fruits provide the body with micronutrients that improve immunity and prevent diseases among other benefits, however, unscrupulous traders "ripen fruits such as mango, banana, plantain, guava, orange, grape, and other fruits with calcium carbide which is dangerous to health,"
" Ripening is the process by which fruits attain their desirable flavour, quality, colour, palatable nature and other textural properties.
" Ripening is associated with change in composition that is conversion of starch to sugar.
He added that the reasons why people ripen fruits is to bring out the fruits sweet and sour flavour, and decrease bitterness and astringency.
According to him, using calcium carbide for ripening fruits is a no thing because calcium carbide,once dissolve in water,produces acetylene which acts as an artificial ripening agent.
Calcium carbide generally contains impurities such as arsenic, lead particles, phosphorus, etc., that pose several very serious health hazards.
"Consumption of fruits containing these impurities may cause cancer, heart, kidney and liver failure.
"They may also cause frequent thirst, irritation in mouth and nose, weakness, permanent skin damage, difficulty in swallowing, vomiting and skin ulcer.
"Higher exposure may cause undesired fluid build-up in lungs (pulmonary oedema).
He added that ripened fruits are a good source of vitamins and play important role in preventing vitamin C and A defiencies.
He also said that using dangerous chemicals to ripen fruits results to upset stomach, damage mucosal tissue in the stomach, peptic ulcers,affect the neurological system and disrupt the intestinal function.
" Eating food ripened with carbide causes headache, dizziness, memory loss,celebral oedema, general weakness,low blood pressure, seizure.
According to him, the health benefits of fruits depends on how they are ripened.
He added that the dangers of using calcium carbide as artificial fruit ripening agent is fraught with several problems.
" It is explosive In nature and studies have shown that it breaks down the organic composition of vitamins and other micro nutrients.besides it changes skin color and the fruits remain raw inside.
He explains that, Acetylene produced by calcium carbide affects the nervous system by reducing oxygen supply to the brain , calcium carbide contain arsenic and phosphorus which are toxic and contain carinogenic properties and further induces prolonged hypoxia.
According to him, the impurities are hazardous to pregnant women and children and may lead to headache, dizziness, mood disturbances, mental confusion, memory loss, cerebral oedema (swelling in the brain caused by excessive fluids), sleepiness and other health challenges.(NAN)