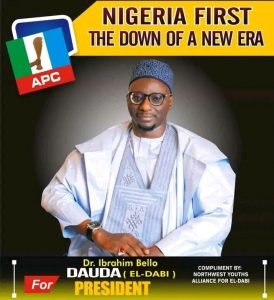 Coalition of Nigerian youth leaders endorse APC presidential aspirant, Dauda
By Aluta News
June 02, 2022
A coalition of leaders from national youth bodies, has endorsed the presidential aspiration of Dr Ibrahim Dauda.
Dauda is an aspirant under the platform of the All Progressives Congress (APC).
The coalition, drawn from youth groups and the civil society, notably; the National Youth Council (NYCN), Youth Advocacy for Credible Leadership, Youth for Peace and Security Development Initiative, Empowerment for Unemployed Youth Initiative and the North/South Youth Integrity Forum.
Also included in the coalition is the APC Youth Integrity Network, APC Youth Vanguard, APC Young Professionals Movement, APC Unity Group for Goals, APC Youth Support Group for Better Nigeria, Muhammadu Buhari Youth Emancipation Strategic Movement, Creative Centre Against Poverty and Underdevelopment, as well as Partners for Legislative Agenda in Nigeria, and many others.
Igwe Ude-Umanta, who spoke on behalf of the youth leaders at a press conference on Thursday in Abuja, said they were gathered to endorsed Dauda, because he was a youth with impeccable leadership credentials.
"And having endorsed him, we hereby present him to the APC for total support and possibly, consensus.
"In doing this, we recognise and pay our utmost respect to many other eminent Nigerians in this race for the 2023 presidency. But it is the time of the youths.
"And having identified a young Nigerian of unassailable leadership credentials, it is right and righteous that we choose and stick with our own for the job of the Nigerian presidency.
This endorsement is not just about being young. It is about possessing the requisite credentials and capacity to lead the country at a time that dynamic and digital leadership is most desirable," Ude-Umanta said.
He said that during the assent to the "Not Too Young To Run Bill (now Act), President Muhammadu Buhari had lauded the legislation, and appealed to the youths to support him, and that he will in turn support them after his tenure.
"That was a promissory note and cheque. It is time to cash it and there should not be any bankruptcy about it.
"We hereby remind Mr. President and the APC of this promise, and we urge them to honour it now that the youths have presented somebody who is eminently qualified to lead."
He said: "For the records, Dr. Ibrahim Bello holds a Doctorate in Business management, a successful businessman, a leadership development consultant, a policy analyst and a philanthropist.
"He is also a political leader of note.
"Now that we hear of the efforts of the All Progressives Congress to reach a consensus in its candidacy, it is our earnest expectation Dr Dauda should be granted the right to first refusal.
"This will no doubt ensure massive youth support for the party; and victory in 2023 elections would have been assured before voting starts."
The youth leader said the coalition would continue to stand with, and defend the youth mandate, which was the core objective of the coalition.
"It is Dr. Ibrahim Bello Dauda or nothing beneath it. We will be keeping vigil on this. And we anticipate that the APC will follow the yearnings of the youth and do the right thing," Ude-Umanta maintained.