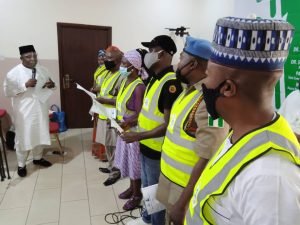 By Philip Yatai
September 09, 2020
Nigerian Youth Compact on COVID-19 inaugurates Kaduna chapter
The Nigerian Youth Compact on COVID-19 (NYC-COVID-19) on Wednesday, inaugurated the Kaduna State Chapter of the organisation to champion its activities in the state.
The National Coordinator of the organisation, Mr Gambo Sulaiman-Haruna, who inaugurated the State Steering Committee in Kaduna, said that the move was to get the youth involved in Covid-19 response.
According to him, the goal is to support governments in mitigating the impact of COVID-19, particularly on the youth.
Sulaiman-Haruna said that the group would support governments in youth sensitisation and mobilisation to ensure effective response to the pandemic.
He said that the NYC-COVID-19 was established to ignite hope for 10 million youth affected by the lingering COVID-19 pandemic in the country.
"Our responsibilities were to among other things, mobilise network of youth organisations across the country, to inform, co-design and support ongoing COVID-19 response.
"We are expected to generate a data base of 10 million Nigerian youth affected by the pandemic, to inform government, development partners and stakeholders on response to the pandemic as it affects the youth.
"Without this data, there is little or nothing that can be done to reach out to the youth who are the worst hit by the pandemic.
"Therefore, I urge you to begin massive awareness creation, advocay and sensitisation campaigns in every community and generate the needed data required to reach out to the youth," he said.
The Chairman, Advisory Committee, NYC-COVID-19, Mr Uzo Infanyi, said that the Nigerian Youth Compact on COVID-19 was a United Nations initiative under it's Global Youth Compact.
Ifeanyi said that the Nigerian Chapter was inauguriated on June 2, as a youth structure in response to COVID-19.
He said that the organisation would undertake advocacy, awareness creation and data generation, and expressed confidense that the state chapter will change the COVID-19 narrative and how it affects the youth in Kaduna state.
"As part of efforts to mitigate the effect of the pandemic on the youth, we have recently singed a memorandum of understanding with the Nigerian Youth Chambers of Commerce.
"The goal is to help youth access empowerment packages from the Central Bank of Nigeria," he said.
Responding, the State Coordinator of the committee, Mr Musa Audi, thanked the national coordinator for the confidence bestowed on the committee members.
Audu noted that young people must play active role in the response to the pandemic, and assured that the state chapter would do its best in partnering with government and other partners in reaching out to the youth.