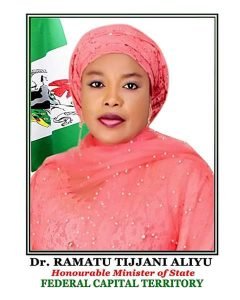 By Gambo Jagindi
April 28, 2020
Youths Commended FCT Minister of State for transparent execution of palliative programme, Nickname her as Mama Palliative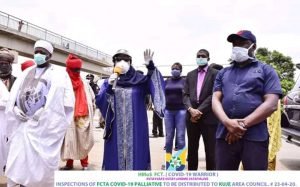 The FCT Council Youth Taskforce on COVID-19 has commended Hajiya Dr Ramatu Aliyu, the Minister of State, FCT, for her transparent and proactive role in the distribution of palliative across the FCT area councils, Nickname her as Mama Palliative.
Comrade Ango Abdullahi Suleiman, Chairman of FCT Youth Taskforce on COVID-19,who made the commendation during the group media update and briefing in Abuja on Monday, however, called for the inclusion of more beneficiaries in the subsequent programme.
Suleiman said that the taskforce had actively participated, followed and monitored the distribution processes across FCT "and were very glad in the transparent manner and proactive role of the minister."
He said even though some hoodlums had been trying to hijack the process, the youth groups in the territory would continue to mobilize their members to ensure smooth implementation of the programme
Mr Dalhatu Eziekel Musa, a member of the taskforce representing the Coalitions Of indigenous associations of FCT, also lauded the performance of the minister in coordinating every action leading to curtailing the spread of COVID-19 and cushioning the effects of the masses in the territory.
Musa expressed delight that the minister was actively involved by her physically presence in the distribution processes, on daily basis.
He said the palliative were distributed in every ward, adding that FCT had a total number of 62 wards of which palliative items had been distributed to about 50 wards, remaining one area (AMAC).
The member added that 600,000 palliative bags of rice were being shared to the vulnerable residents of FCT but called for the inclusion of more beneficiaries in the programme.
Musa, however, condemned the hijack of palliative items in Dutse Alhaji in Bwari Area Council on Sunday by some hoodlums, noting that the development delayed the distribution processes in that area.
He pledged that henceforth, the youth would put machinery in motion that would support and ensure smooth implementation of the palliative programme in the FCT.