Trumps rips reporter who asked him to calm Americans as 'terrible'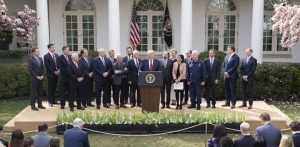 By Adam Edelman
March 20, 2020
Trump rips reporter who asked him to calm scared Americans as 'terrible'
President Donald Trump excoriated an NBC News correspondent as a "terrible reporter" on Friday after he asked the president to calm Americans who were scared because of the coronavirus pandemic.
Trump's latest personal broadside on the media came at a news conference in which he appeared to minimize the fears of the American public by saying there was cause for optimism about drug therapies for coronavirus — treatments that one of his top government scientists had said were not at all proven.
At the Trump administration's coronavirus task force's daily briefing, Trump's director of the National Institute of Allergy and Infectious Diseases, Dr. Anthony Fauci, made clear that any evidence about drug therapies being tested at the moment was strictly "anecdotal" and not the product of a "clinical trial."
"You really can't make any definitive statement about it," Fauci said.
Trump nevertheless said he felt "good" about the treatments and that the federal government had already ordered "millions of units" of them.
NBC News' Peter Alexander then asked Trump whether his "positive spin" regarding the potential treatments was giving Americans false hope.
"Is it possible that your impulse to put a positive spin on things may be giving Americans a false sense of hope?" Alexander asked.
"No I don't think so," Trump replied.
"It may work, it may not work, Trump said. "I feel good about. That's all it is, it's a feeling."
Alexander responded by asking Trump to talk directly to Americans who are scared by the pandemic, which triggered the president to reply with an insult.
"What do you say to Americans who are scared, millions who are scared right now?" Alexander asked.
"I say that you're a terrible reporter," Trump said. "That's what I say. I think that's a very nasty question."
"You're doing sensationalism," Trump said.
U.S. stocks, which had been up for the day before Trump began the news conference, tumbled steadily as the president spoke. In recent trading, the Dow Jones Industrial Average was down more than 100 points, or 0.6 percent.
Trump returned to the topic of media coverage later in the news conference, using another question from another reporter to levy an additional attack on Alexander.
"I've dealt with Peter for a long time," Trump said. "And I think Peter is not a good journalist."
Source: NBC News
­