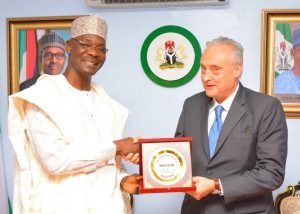 By Mohammed Baba Busu
March 09, 2020
Nasarawa seeks partnership with Belgium in agriculture, oil services
Gov Abdullahi Sule of Nasarawa has sought collaboration with the government of Belgium in the areas of agriculture and oil services.
The governor made this known while hosting the Beigium Ambassador to Nigeria, on a courtesy visit at the Government House, Lafia on Monday.
Sule said that while Nasarawa has great opportunities for investments, the state was also ready to partner with other Countries.
He said that the state was well placed to have a wonderful relationship with Belgium.
Sule said that the state has tremendous opportunities in the area of agriculture, with his administration working hard in the areas of diary production and solar power.
He noted that Belgium was known for its leadership role in area of oil services and hoped that soon the state will go into exploration and eventual development and production of its oil reserve.
"And that is one area your companies will come and we can begin to look up so that they can set up in preparation of activities to take place," he said.
Sule also sought partnership with Belgium in the area of health and education, while informing the envoy of the recently signed Child Rights Protection law, banning street begging across the state.
He told the Belgian envoy that the law was enacted to protect children, urging for a further collaboration to educate children in the state.
"We also know you support health and education and we believe in Nasarawa State we can work with you. We seek your support in order to educate our youth, our children.
"We believe we can go into partnership with you as part of your social development, to see how we can work in those areas," Sule added.
Earlier, Mr Daniel Dargent, the Belgian Ambassador to Nigeria, said it was important as his country's envoy, to reach out to the states with a view to seeking areas of collaboration and partnership.
Dargent commended the state Government for its development strategy, the Nasarawa Economic Development Strategy (NEDS),
He identified agriculture and solid minerals as key areas of collaboration with his country.
The Belgian envoy said his country and Nasarawa State can also partner in the area of students exchange.
"Of course, Nigeria is a big country, you should not restrict yourself to the central authorities but go beyond to see what the country can offer and what we can offer to states in Nigeria," Dargent said. (NAN)