By Gambo Jagindi
December 23, 2019
Deji Adeyanju Convener of concern Nigeria was brutally
attacked by thugs
The Convener of Concern Nigeria Comrade Deji Adeyanju was brutally Attacked by thugs during a protest at the human right commission headquarters Abuja to demand for the release of Omoyele Sowore.
Adeyanju and other protesters were at the NHRC headquarters to present a letter of protest to the commission when the thugs unleashed violence on them
It is unclear why the thugs attacked the protesters.
Sowore is currently in the custody of Department of State Security and was charged with insulting President Muhammadu Buhari, treasonable felony and money laundering.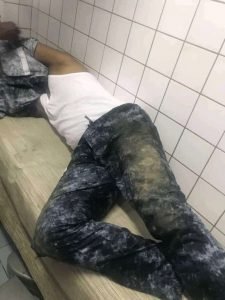 The court had summoned Abubakar Malami, attorney-general of the federation (AGF), and Yusuf Bichi, director-general of the Department of State Services (DSS), over the detention of the pro-democracy activist despite a subsisting order for his release.