No hiding place for criminally minded person-CP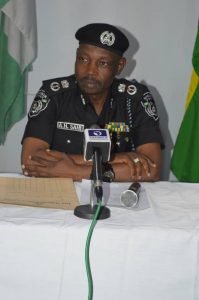 No hiding place for criminally minded persons in Kano -CP
By Mohammed Baba Busu
The Kano State Commissioner of Police, Habu Sani says that there would be no hiding place for any criminally minded persons in the state under his watch
The new commissioner of police stated this while briefing newsmen in Kano on Monday.
He said that his command is determined and ready to tackle all security challenges facing the state so that the people can sleep with their two eyes closed as well as go about their normal activities without fear or hindrance.
According to him, we shall continue to formally and informally partner with all sister security agencies and critical stakeholders.
"Judiciary, CSOs, human rights groups, NGOs, PCRC, media, eminent persons, volunteer security outfits, transport unions, traders associations, etc.) at all levels towards Crime prevention to ensure safety and security of the people of Kano and Nigeria at large.
The CP expresses deepest appreciation to the Inspector General of Police, IGP Mohammed Abubakar Adamu, for finding him worthy of of the deployment and promised to discharge his duties without fear or favour
" I assumed duty on the 20th November, 2019 as the 41st Commissioner of Police of Kano State Command and having received briefs from the departmental heads
"The security situation of the state was carefully analyzed and critically studied.
Each and every area in the state was demographically examined and crime mapped.
" Let me be loud and categorical that, there will be no hiding place for any criminally minded person he said.
Sani said that action plan has been designed and will be implemented in the fight against all forms of crimes and criminality in the State
" I have lectured and directed all Heads of Departments, DPOs, Tactical Commanders, other supervisory officers and personnel to work professionally in accordance with the provisions of the Police Act and Regulations.
"The Constitution of the Federal Republic of Nigeria, respect for human rights and rule of law
" Community Policing and problem solving approach will be properly adopted to Police the State.In doing so, we shall integrate the key elements of modern crime control and conflict management in our policing efforts.
"This may include but not limited to prolific offender management, crime hot-spots policing, intelligence-led and predictive policing.
"The integration of these policing methods shall be directed at effective prevention of crime, violent conflicts and decisive response capabilities," he added.
.
The commissioner of police said that Public Relations department of the command will be strengthened to achieve its mandate and meet the demand of the dynamic and commercial Kano State.
He added that a social media section was established to monitor, engage and promote policing activities in the state.
Sani also said that programs and workshops will be organized for interactive engagements between the police and social media activists to enhance the capacity of the Police Public Relations Office Personnel.
"To be accountable to the good people of Kano State, in the Command's Public Complaint Desk, channels of forwarding Complaints against the conduct of Police Officers are being improved with networking systems for receiving instant messages and calls for prompt response.
He disclosed the command's emergency mobile phones numbers as 08032419754, 08123821575, 09029292926 and public complaint desk mobile phone numbers as 09064525249, 08150202029.
He also gave the command's gmail as kanopolicepubliccomplaintdesk@gmail.com and our twitter as @kanopolicepubliccomplaintdesk, for the public with useful information that would led to arrest of criminal elements.