Land Title Delays major Barrier to Housing Delivering in Nigeria-Experts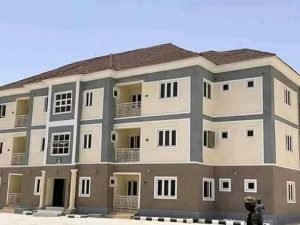 Land Title Delays Major Barrier To Housing Delivering In Nigeria- Experts
By Aluta News
Federal Government's ambitious yearly housing targets of 1 million and initiatives of making affordable housing available to many Nigerians may hit the rocks if the sub-national governments continue to delay land titles.
Nigeria has a housing deficit of over 17 million units, a problem which it has been trying to solve with various forms of initiatives, with the most recent effort being making available a housing cooperative loan fund, which seeks to ensure more people own their dream homes through a registered cooperative as a special purpose vehicle to access their own home.
Babatunde Fashola, minister of Works and Housing, at the just concluded National Council for Housing and Urban Development, informed various state representatives at the meeting that they needed to register state cooperatives in order to access the cooperative housing loan domiciled with the Federal Mortgage Bank of Nigeria.
"To drive this initiative forward, the state should be able to provide title, land and other necessary approvals," Fashola said.
Many real estate experts had lauded the initiatives, but had also raised concern that land title delays by sub-national governments could scuttle the ambitious project since the land ownership structure according to the Land Use Decree vested ownership of land in the state.
Most state governors take land as their own most priced asset and are not so readily willing to sign of Certificates of Occupancy within their respective state jurisdictions, an issue some analysts have said is not fast-tracking housing development across the country.
"There is often a disconnect between what is done at the federal level and what we do at the state. There must be effective collaboration. For us to have he needed impact, we must ensure that the policies we initiate have a trickle-down effect with the sub-national government," Ugochukwu Chime, a surveyor and president, Real Estate Developers Association of Nigeria.
READ MORE:  DBN to Disburse N100bn to MSMEs
Ahmed Dangiwa, managing director, Federal Mortgage Bank of Nigeria said that the scheme initiated by the Federal Government is geared towards driving housing availability to the people.
He clarified that the essence of bringing in the cooperatives is to help market the schemes in various states of the federation.
Festus Adebayo,a fiery affordable housing advocate, said we cannot continue to watch the state government on their lackadaisical attitude to housing development through delaying of land title and commercialization of building approvals. We must as stakeholders increase our advocacy and take it to door step of all the state governors and federal capital territory.
Joshua Egbade, a real estate expert and developer who had worked with some state governors on housing development, said affordability factor is still an issue of concern to willing clients, despite adjustment of the equity contribution by the Federal Mortgage Bank.
"Affordability and homeownership capacity of potential homeowners are still weak. In cracking down the housing deficit, the government must retouch the capital base of the Federal Mortgage Bank of Nigeria to N500bn to assist its expansive role in housing availability," Egbade said.
According to the United Nations, rent in most Nigerian cities is 60 percent of the disposable income of most citizens as against the 20 percent suggested by the UN, raising concerns of so many people not being able to own their dream homes possibly in their lifetime.