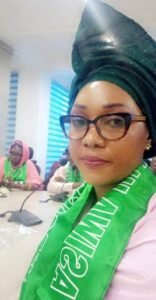 Founder Progressive Empowerment Project felicitates with APC National Women Leader on Appointment
By Bridget Ikyado
The Founder/Convener , Progressive Empowerment Project for Nigeria Women(PEP4NW) Comrade Mrs. Ene Assumtermario Ogidi has felicitated with Hon. Dr. Mary Alile Idele, aka Capacity on her appointment as APC National Woman Leader.
This is contained in a congratulatory message by the PEP4NW convener on Friday in Abuja.
The letter read:It is with great pleasure that I congratulate you on your recent appointment as the APC National Women Leader.
This actually did not come as a surprise, considering your immense contributions to the APC at large. You exhibited a great sense of patriotism and had shown a high sense of responsibility in all ramifications.
This appointment is well-deserved considering your relentless efforts both nationally and internationally, this shows clearly your contributions have not gone unnoticed.
"I am confident that your appointment will help women build Nigerian society that guarantees equal access to social, economic and wealth creation opportunities to all.
" I am certain you will always place premium on women as you are known for, also we at PEP4NW are ready to synergize with you to reach out to Nigeria women and for a better welfare for them.
" I am proud to associate and identify with you as always. Once again congratulations "Hon. Mary Alile Idele (Capacity)."
.