Fr Alia reiterates  trust in Nigeria judicial system ,calls aggrieved members to join in Rebuilding Benue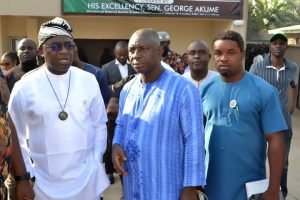 By Bridget Ikyado
The 2023 governorship Candidate of the All Progressive Congress, APC in Benue State, Rev Fr. Dr. Hyacinth Iormem Alia has reiterated his trust in the justice system of Nigeria.
A federal High Court sitting in Makurdi yesterday struck out the suit by Prof. Terhemba Shija challenging the validity of the APC primary elections that produced Rev Fr Dr Hyacinth Iormem Alia as the Governorship Candidate of the party in Benue State.
This is contained in a statement by Isaac Uzaan,Media Aide to Rev Fr. Dr. Hyacinth Alia in Friday in Makurdi.
Reacting to the court verdict during a press briefing today in Makurdi, Fr. Alia applauded the judiciary system, saying the victory is for the APC party and for Benue people.
While describing himself as a unifier and a bridge builder, Fr. Alia called on those who feel aggrieved to come back so that together they can build the party and deliver on democracy. "I'm a unifying factor, I'm a bridge builder…. In fact, I'm using this opportunity to invite them some further more to come back for us to rebuild our party and deliver on democracy".
He added that "a moment like this is in full length a total expression of our deep democracy, but I feel they should understand not just by perception but by position that democracy is to carry everybody along, democracy is to letting everybody understands not the subjective interest but the objective interest. Benue and the people of Benue are, and must remain the objective interest".
On his expectations about the three cases pending in court, Fr. Alia said he so trust in the justice system of his country Nigeria, expressing confidence that the court will exercise by the rules and the same fair play, the same justice will be delivered.
He advised his supporters to remember that the victory is not just about the person of Fr. Alia but "it's about our collectiveness, it's about Benue State, it's about how we are going to deliver Benue from the dungeon where we are currently".
Fr. Alia said it has become an obligation on him that it is not palatable where Benue State is, so they need to put in place things that will bring their people out of the slavery of non proper education, out of the slavery of poor commerce, out of the slavery of deplorable economy, out of the slavery of non-freedom and of insecurity, even as he said they have programs in place to uplift Benue State.