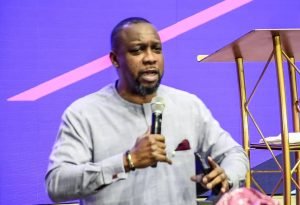 Cleric urges govts. to tackle insecurity
By Bridget Ikyado
July 10, 2022
The Pastor-In-Charge of The Summit Bible Church, Andy Osakwe, has called on government at all levels to address insecurity in the country.
Osakwe made the call during the church's 2022 Mid-year Thanksgiving and Worship Session on Sunday in Abuja.
"Our leaders need to take some drastic meaningful actions.
"This problem is not something that is beyond the scope of a solution.
"I believe that there must be a strong show of force, if we need more advanced weapons for the police and the military, they should do so.
"Do whatever you need to do, if they need more training, let them be trained," he said.
He also advised Christians and citizens to pray and be watchful at all times.
"We need to be vigilant because there are people who are just wicked and they don't represent the average Nigerian.
"That thing of violence should not hinder us or anybody, it's not just the church, innocent citizens are harmed by such people, so we are praying for God's protection.
"We are not just praying for ourselves, we are praying for the nation as well."
The pastor also prayed for the successful conduct of general elections in 2023 and urged Nigerians to get their permanent voter cards and vote wisely.
"We are praying for the elections, we are praying for God's will; God's choice will be the next person to sit in the office of the president and lead us."
On worship which was the purpose of the gathering, the cleric said "praise and worship go a long way to turn things around for the best.
When we talk about worship, we talk about the fruit of the lips, we talk about thanksgiving, offering and we talk about the living sacrifice.
"That is when you serve God with your body, which is praising God," Osakwe said.