Lockdown has reduce spread of COVID-19 in Nigeria, says peace corp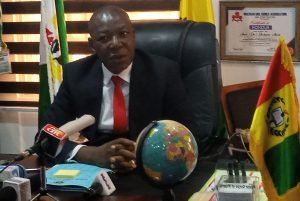 By Gambo Jagindi
April 05, 2020
Lockdown has reduce spread of covid-19 in Nigeria, says Peace Corps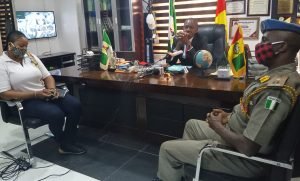 The Peace Corps of Nigeria (PCN) says the declaration of cessation of movements Lagos, Ogun States and the Federal Capital Territory( FCT) by President Muhammadu Buhari has reduced the spread of covid-19 pandemic in the country.
National Commandant of the Corps Amb. Diskson Akoh made the statement at an interactive session with newsmen on Tuesday in Abuja.
" The cessation of movement or lockdown was intended to ensure smooth contact tracing and for that reason for me i will give a pass mark to the Federal Government because without lockdown it will have been difficult for the government to curtail the spread of the virus.
" Those who have traveled history have infiltrated into the various part of the country and they have also come in contact with many people.
" The essence of the lockdown was to ensure that health management authorities are able to track down this people for our own common good," he said.
Akoh, however, said that Nigeria could not be able to sustained lockdown for long because of its negative impact on the nation's economy.
He noted that the social welfare scheme as applicable to Nigeria was not the something with what was tenable in advance societies like the United States of America.
He enjoined Nigerians to adopt conscious measures to protect themselves against covid-19 pandemic as the Federal Government ease the lockdown.
He also appealed to Nigerians to be patient and understand the stand of the Federal Government, adding to adjust to social changes was a gradual process.
Akoh, however, urged the National Orientation Agency (NOA) to champion awareness campaign against covid-19 pandemic in additional what the Presidential Task Force on Covid-19 (PTF) was doing.
He also stressed the need for NOA to educate Nigerians on the risks factors associating with covid-19 pandemic to ensure that they take preventive measures.
He also stressed the need for the Federal Government to ensure youths inclusion in palliative scheme distribution, adding that the youth constitute the vast majority of Nigerians population.
Akoh said that some youths organisations like the Nigeria Peace Corps and Man O War are playing a vital role in the fight against covid-19 pandemic.
" If you go across various states in Nigeria you will see the true spirit of volunteerism being displayed by the officers of peace corps without support from any arm of government.
" That is the only aspect that the generality of youths and even members of the Nigerian Peace Corps did not find it appealing is the aspect of empowerment and palliative measures that never get to the youth.
" Apart from the Cross River State Government that last donated a brand new truck to enhanced the peace corps operation. (NAN)