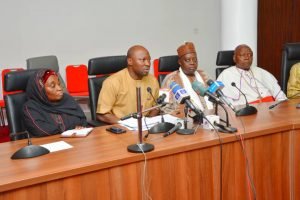 By Gambo Jagindi
March 21, 2020
COVID 19: Nasarawa intensifies advocacy, even as Keffi suspects test negative
In a bid to combat the widespread of the dreaded Coronavirus, the Nasarawa State Government has intensified advocacy and sensitization across all strata of society to curb the spread of the pandemic.
This was part of the resolutions arrived at during an emergency critical stakeholders meeting, which took place at the Government House, on Saturday.
Addressing a press conference shortly after the meeting, state Commissioner for Health, Pharmacist Ahmed Yahaya, confirmed that the five suspected cases recorded in Keffi, have turned out negative, with presently Nasarawa State having no incident case.
Also, as part of the resolutions, necessitated by the need for government to be proactive, the involvement of more critical stakeholders like the ministries of education, agriculture and water resources, environment, works and transport, information, culture and tourism, federal agencies, National Union of Road Transport Workers, CAN, JNI, JIBWIS, local government councils, for all to take preventive measures to protect the citizenry of Nasarawa State.
Stakeholders at the meeting equally agreed to place measures at all motor parks where necessary steps will be taken to check all incoming and outgoing commuters, as well as in extend sensitization campaigns in market places, social gatherings and among religious groups.
The state Governor also directed for the completion of epidemiological centre, with plans underway to shut schools across the state and reduce gathering for over 50 individuals.
A taskforce comprising all the critical stakeholders, under the supervision of the Ministry of Health, have been mandated to take the advocacy and sensitization campaign to the local government areas and to the grass root.
Earlier, in an introductory remarks, Nasarawa State Governor, Engineer Abdullahi Sule, said the meeting was among a series of meetings to hold before Tuesday next week, before government can address all the various issues regarding the COVID 19 pandemic.
"As you know, the issue of coronavirus, which has become a pandemic, is eating deep into both health as well as economic spheres as it affects various parts of the world. Nigeria cannot be an isolation, and Nasarawa state in particular, cannot be in isolation," he stated.
Engineer Sule added that in order to approach the issue critically and in line with the open door policy of his administration, it became necessary to invite critical stakeholders to come and be part of the decisions to be taken in order to protect the people, state, economy and be able to proffer ideas that will also be transmitted to the federal government.