By Gambo Jagindi
February 18, 2020
FMBN disburses N238 billion in 27 years
Commissioning of the 154-unit Woodhill housing estate in Kuje, Abuja. The estate was funded by FMBN to the tune of N498M through a partnership with Akacare Multipurpose Cooperative Society.
The Federal Mortgage Bank of Nigeria (FMBN), said it has disbursed about N238billion in 27 years, which has helped to construct and deliver 7,740 housing units in the country.
The Managing Director, FMBN, Ahmed Dangiwa, who stated this yesterday, at the flag-off of FMBN/Woodhill Housing Estate in Kuje, said the scheme has become a reality in partnership with Akacare Cooperative Society.

He also explained that Phase II of the project has already commenced, and is expected to deliver additional 77 units to make a total of 154 houses in all, while five owners have already moved into their homes.
"This is a socio-economic contribution to open up the area for real estate developers. We've revamped Cooperative Housing Development Loan so that members can approach banks for loans to construct houses."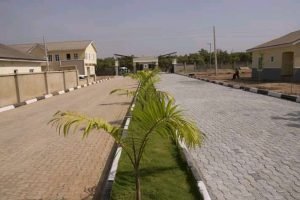 Dangiwa said, "With this development, it would ease affordability to home ownership for our contributors. We would continue to explore better ways to make an impact in the sector.
Earlier, Chairman, Perfect Estate Developers Limited, Dayo Babatunde, said the scheme demonstrates government's commitment to the provision of quality housing to citizens.
Babatunde maintained that national housing policy would remain a mirage without cooperation and contributions of credible real estate developers, and others in the construction industry.
In addition, he called on Nigerians to key into the FMBN programme to address the unstructured and structure segments of the society, like obtained in Kenya, Brazil, and other countries of the world.
On his part, Chairman, Board of Directors, FMBN, Dr. Adewale Adeeyo, said the Bank has automated its business processes to improve service delivery, and repeated the call on the Federal Government to increase its capital base N500billion, up from the current N5billion.
Source: Guardian.ng