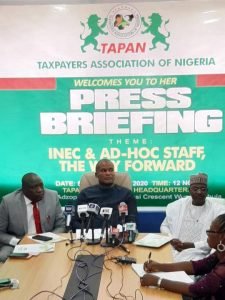 By Chinonyerem Nwogu
February 7, 2020
Association demands resignation of INEC boss over non Payment of Ad-hoc Staff:
Tax Payers Association of Nigeria (TAPAN), has called for the immediate resignation of Prof. Mahmoud Yakubu, Chairman of the Independent National Electoral Commission (INEC), over inability to pay allowances owed its members.
TAPAN President, Comrade Obinna Okafor, made the demand during a news conference in Abuja, on Friday.
Okafor explained that TAPAN was an Umbrella body of taxpayers, which was approached by the ad-hoc staff that worked during the Presidential and National Assembly elections of Feb. 2019; and who were not paid their stipends as stipulated.
He nited that few days from now will be Feb. 16, exactly one year the youths played their role in the exercise, and up till now, INEC was yet to meet its own part of the agreement by paying the ad-hoc staff.
He noted that the core objective of TAPAN as an association, among others, is to ensure that taxpayers' money was duly appropriated and expended.
Okafor further explained that during the 2019 General Elections, INEC as the electoral umpire of the country, recruited the ad-hoc staff to help in the election.
The ad-hoc staff included both ex-corps members and serving corps members.
He said there were 119, 973 polling units across the country and each one was coordinated by four officials; one serving Corp member and three Ex-corp members, making it a total of 479,892 ad-hoc staff engaged for the polls.
In preparation for the elections, INEC organised a training for all the ad-hoc staff which lasted for two days and the ad-hoc staff for the said elections were entitled to N8,000, for logistics and other expenses.
He said that at the end of the induction course, even-though the said amount was appropriated, it was however, never paid to them.
According to him, this also includes the sum of N15, 000 for coordinating the polling units across Nigeria for the said elections.
"The entire ad-hoc staff mobilised to their various areas of primary assignments ready for the job, when at about 3:00 a.m., on the election day, and about four hours to opening of the polls, Prof. Yakubu came on air to announce the postponement of the elections for reasons best known to him.
"Till date, the ad-hoc staff have not been paid," he said.
According to him, Nigerian youths have become endangered species, not only do they roam the streets seeking for employment, but the jobs they undertake for their country will not be paid.
"We need not to add that money for the exercise was duly appropriated by the National Assembly from taxpayers' money, hence our involvement in this matter.
"Therefore, TAPAN insists that Prof. Yakubu must resign with immediate effect and handover himself to the appropriate authorities for misappropriation of taxpayers' money, breach of trust, rape of justice and lack of administrative mastery.