$10,000 Extortion: CJN disowns Shehu Sani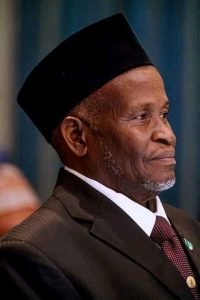 By Gambo Jagindi
January 6, 2020
$10,000 Extortion: CJN disowns Shehu Sani
Chief Justice of Nigeria Ibrahim Tanko Muhammad has denied having any link with a former lawmaker representing Kaduna Central, Senator Shehu Sani, who is currently under investigation by the Economic and Financial Crimes Commission for alleged extortion.
The complainant, Alhaji Sani Dauda, who reported Sani to the EFCC, had alleged in a petition that the former lawmaker asked him for N4million to give to the CJN and other four judges to influence some pending cases in court.
The CJN made the clarifications in a statement Sunday by the Supreme Court's Director, Press and Information, Dr. Festus Akande.
In the statement entitled, 'Senator Shehu Sani is not known to the CJN', the CJN said n he had never met Sani at any point in time.
He said:  "Even though the veracity of the true source of the unsubstantiated statement has not yet been ascertained to know if it was really from the former senator, it is, however imperative to keep the records straight by letting the public know that Justice Tanko Muhammad has never, in his entire life, seen or had any form of encounter or interactions, either directly or remotely with Shehu Sani, let alone giving him assurances of what is not only unethical but equally despicable and inglorious, to say the least."
The CJN also said that the Supreme Court's attention was drawn to the report in national dailies "that Senator Shehu Sani allegedly approached Alhaji Sani Dauda of ASD Motors and purportedly demanded the sum of N4, 000,000 to give to the Chief Justice of Nigeria, Hon. Dr Justice Ibrahim Tanko Muhammad, to settle some unnamed four judges over a case he (Shehu Sani) allegedly claimed won't see the light of the day."
"Let it be known that if the statement credited to Shehu Sani was actually made by him, it is simply a blatant lie, a figment of his imagination and an orchestrated falsehood immodestly concocted to malign, smear and disingenuously tarnish the good image and reputation of the CJN with a view to gaining financial reward," the statement further stated.
The CJN said: "The next line of action to be taken regarding the flagrant defamation of the character of the Chief Justice of Nigeria, as perpetrators of such falsehood can never be allowed to walk away with the dastardly act