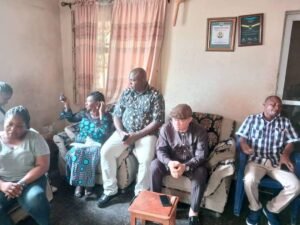 SEMA Boss pledges synergy with CSOB
By Bridget Ikyado
Civil Society Organization, Benue State (CSOB) paid a courtesy call to the Executive Secretary, Benue State Emergency Management Agency (BSEMA), Sir. James Anodoakaa Iorpuu , today Monday, 21st August 2023 in Makurdi, Benue State.
Speaking on behalf of the Organizations, Dr. Mrs Helen Teghtegh commended the E.S for his benevolent nature especially his open door policy, adding that the facilitation of the training and the collation of verifiable data of the IDPs must be appreciated.
According to Charity Agber
Information Officer, Benue SEMA, Dr.Teghtegh noted that the rationale behind their visit is to officially introduce the Organizations to him and brief him of their activities in the State which ranges from Gender Based Violence protection mechanism, Psychosocial Support and Food distribution.
She also said the Organizations has been able to effectively work at the grassroots to drive humanitarian response in Benue State by contributing in the development of the Benue Humanitarian response plan and escalating the humanitarian challenges in the State which spur OCHAD to step in to work for six months before disengaging.
The Organizations appealed to the E.S for Strong partnership as they have a lot to offer and also volunteer to support SEMA in the monthly food distribution to the persons of concern.
Responding, the Ag. Executive Secretary, Benue State Emergency Management Agency (BSEMA), Sir. James Iorpuu appreciated the Governor, Rev. Fr. Dr. Hyaicent Iormem Alia for appointing him to head one of the exalted office in the State as it has been his dream to serve the people.
He lauded their coming and promised to sustain the synergy between SEMA and them for better service delivery.
The SEMA boss re-echoed the determination of the Governor to return the IDPs to their ancestral homes while commending them for their support in the collation of verifiable data by sending some of their staff for the exercise.
He further said that, the Constitution of the resettlement plan shall involve the technical committee and some of their members will be selected to work for the realization of the dream while soliciting for financial support.