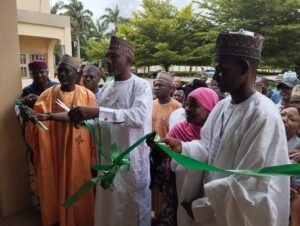 Ahamdu Bello University Zaria, unveil it kaduna Distance learning centre
By Hussaina Yakubu
August 06, 2023
The Ahmadu Bello University (ABU)Zaria has on Satuday Unvailed its new kaduna Distance Learning Centre (DLC)
In an interview shortly after the unveiling ceremony at Center at Arewa House, VC ABU Zaria Prof Kabiru Bala said DLC would give the student the opportunity to run a degree or masters programme through online classes.
He disclose that, ABU DLC distance is now at Arewa House kaduna, after it's relocation from kaduna polytechnic where it was operating initially.
The VC also disclose that , ABU is the largest university in sub-saharan Africa and her alma mater are all over the world adding that the DLC would reduce the pressure during admission particularly for those that want to stay at ABU campus
While explaining that , those on distance learning don't need to be around but rather study online
According to him, the DLC will help to accommodate people who want to study at ABU and it will give them an opportunity to enrolled from where ever they are in the country
He said , the gesture will go a long way for and significant for student within the catchment area study with ease
The VC also called on the student, staff to make a good use of the facility in kaduna , as it is at a conducive atmosphere.
In a separate interview after the ceremony ,Prof Ibrahim Sule ,Director of Distance learning centre , Ahmadu Bello University Zaria (ABU)said distance learning is not new in the history of education in the world
He said now distance learning has been influence by technology where course materials are sent to student online
According to him, the centre is allowed to run all the program approved on campus by the national universities commission
"The centre is allow to run over 17 academic programs that are offered by the university , out of which , nine are are under graduate programme while eight are post graduate programme except for some that are not permitted to mount at the distance learning centre
"This include program like engineering , medicine , law and nursing to some extend and few other program that involves real practical"he said
He said the , the distance education of ABU came up in 2010 to provide additional space to compliment what was done in the main campus
He said the entry requirement , curriculum are similar to that of normal on-campus studies
"The difference is just mode of delivery , which is online while on campus is face to face "he said
The director also explains that examinations require physical appearance and tutorials before the examination.
He said , the distance learning centre has only one examination centre in kaduna at areawa house campus .
The News Agency of Nigeria (NAN) reports ,Some of the courses for interested candidates to apply are Bsc Business Administration, public administration, economics, political science, international studies, sociology, accounting, computer science and BNSc Nursing science.
Other for postgraduate are masters in business administration, international affairs and diplomacy, public health, low enforcement and criminal justice, information management, public administration, postgraduate diploma in education in management(NAN)