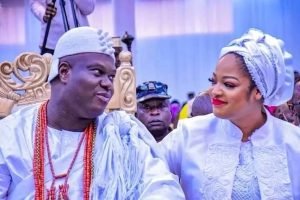 My time with the Ooni was a bitter-sweet experience – Queen Naomi
By Aluta News
April 22, 2023
Queen Naomi Ogunwusi, the former wife of the Ooni of Ife, has stated that she entered the palace too innocently.
Queen Naomi announced her separation from Oba Adeyeye Ogunwusi Ojaja II in December 2021.
Many people were surprised by the couple's divorce because they had no idea they were having problems.
However, the Ondo State native had a son for the monarch before she left the palace.
While speaking with The Punch on Wednesday, Queen Naomi said her time with the Ooni was a bitter-sweet experience.
She said, "I am hesitant about speaking on my experiences in the palace. But in my usual way of talking, it was a bittersweet experience. Details, I will not be sharing, but it was a bitter-sweet experience. There were really sweet moments and there were really bitter moments. It is not yet time to talk about it because some things are meant to just teach you by yourself. I believe the messages are just for me at the moment, when God wants to enlarge and expand on it and make it a message for the whole world, then I will hear his words and talk about it.
"Lessons learned are personal and they have helped in shaping me. I am enjoying 30 so much; 30 makes me really strong. I am too innocent; I think I entered the palace too innocent and soft, but life is not like that, you have to be strong, bold and courageous."