DRAC moves for the domestication of protective, inclusive laws of PWDs in Benue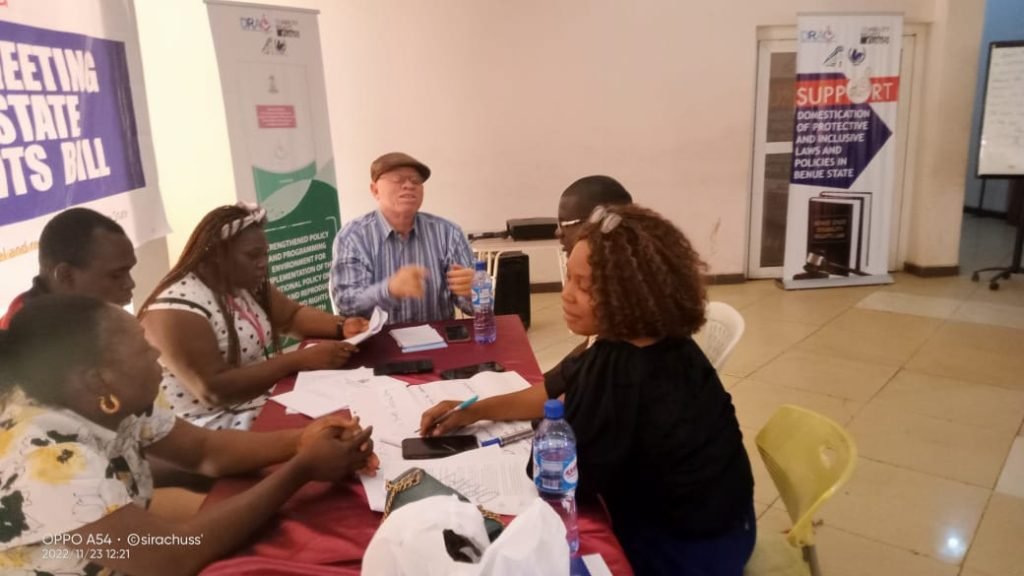 By Aluta News
The Executive Director of Disability Rights Advocacy Centre (DRAC), Irene Patrick-Ogbogu has called on Benue government to domesticate laws protecting the rights of persons with disabilities (PWDs) in Benue.
Ogbogu made the call on Wednesday during a stakeholders meeting On the Benue State Disability Rights Bill held in Makurdi.
She insisted that it was important for the laws protecting the rights of PWD to be implemented in Benue to improve their inclusivity; in the affairs of the state
The director stated that the laws if domesticated in Benue would also reduce if not eliminate the harsh treatment meted out to PWDs in the state.
Ogbogu disclosed that a draft bill by the centre was presented to the Benue Ministry of Justice and has already been vetted by the ministry.
She stated that the law is good because unlike the national law which made no provision for women with disabilities, the state laws provides for such.
The DRAC boss said that the meeting is to present bill to the PWDs in the state for consideration.
She urged the participants to critically look at the draft law, make inputs which would be incorporated in the final draft to the state assembly for passage into law.
The Chairman of Joint National Association of Persons With Disabilities (JONAPWD), Mr Bem Anshe who is sight impaired applauded DRAC for its continuous efforts to better the lives of PWDs, saying that the law is a welcome development.
Also ,one of the participants, Mr Adeyi Onah, a person with albinism commended DRAC for the initiative, saying that unnecessary discriminations suffered by PWDs in Benue would end if there is a law against it.