Anglican church set to launch medical hub to address health challenges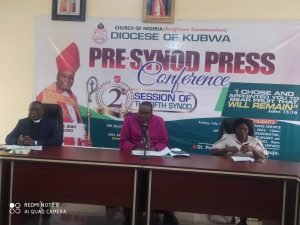 Anglican Church set to launch medical hub to address health challenges
Bridget Ikyado
July 27, 2022
Rev. Duke Akamisoko, Lord Bishop, Diocese of Kubwa,Anglican Communuion has said the church was constructing a ultra-modern medical Centre in the Federal Capital Territory to enhance effective health service delivery and end medical tourism in Nigeria.
The bishop made this known at the pre synod press conference organised by the church on Wednesday in Abuja.
This year Anglican communion Synod is with the theme; "I chose and appointed you to bear fruit that will remain" — John 15:16.
According to him our main focus is the completion of our ultra-modern, 250 bed hospital,work is presently on going at the site, as we are now on the last floor.
" We intend to complete the building this year and hit ground running. When the hospital is completed, it will be one of the best in the FCT with a state of heart equipment and well -trained professionals in the different fields of medicine and health care.
". The church is coming in here, also because our government have failed us in the health sector. That is why you see our leaders running out of the country for medical treatment at any slightest symptoms felt.
" We however commended for the first time, the Vice President of the Federal Republic of Nigeria, Prof. Yemi Osinbajo, SAN whom about week ago underwent a knee surgery in a hospital in Lagos, Nigeria.
" This is indeed a good and patriotic example which should be emulated by our leaders. When our hospital is completed, we look forward to bringing to an end, medical tourism in Nigeria, he said''.
The bishop called on individuals and the government to sit up and ensure the fight against insecurity was conquered.
" There is no doubt that the spate of insecurity is increasing ona daily basis in our Country. As it is, today, nowhere is safe again.
"` Our roads are no longer safe; the rail is no longer safe. And it is so obvious that a larger percentage of Nigerians cannot afford to travel by air.
" To attend places of worship, to go to market, school, even to stay in one's house is no longer safe in this Country. There has never been a time in this Country that insecurity has been at the peak like this.
" We hereby called on the Government to be alive to her responsibility of protecting lives and properties of its citizens.
The bishop also said bad leadership, collapse in education system were issues to tackle for the country to develop.
The clergy said that as the 2023 general elections draw closer, we call on Nigerians who have attained age of voting to obtain their PVC and go all out to perform their civic responsibility on the day of election.
" Nigerians should know that we can take our destiny in our hands by voting out bad leaders and bringing in visionary leaders that can take Nigeria to its promise land.
" We challenge Party Candidates who have already started campaigning for our votes, to focus on issues that can make Nigeria better and not irrelevances
" We want them to know that one day, they shall give accounts of their stewardship to God who is the greatest and final judge of all mankind.
He called on the Electoral Body to carry out its assignment without favor, bias or sentiment. As the body conducts the 2023 election, it should ensure that same is free and fair.
" This is the only way that the confidence of Nigerians can be built in the nation '',he said.
Ahead of the 2023 general election, the Bishop advised all presidential candidates to ensure inculsivness of all religion as they made their choices.
The bishop said as a Church, we have a resolution to make positive contributions and impact on our society, as this is one of the ways we can produce fruits which we have been chosen and appointed to for.
The Fifth Synod will be coming up from Friday, July 29 to Sunday, July 31, 2022 at St. Peter's Church, Karu, Abuja.
The first day, which is Friday will the opening service by 4pm, while Saturday will be the official opening, presentation and launching of the Bishop's charge.