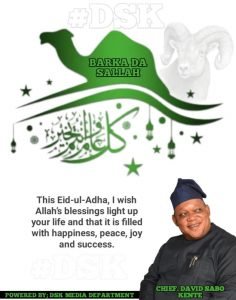 2022 EID-El-KABIR : CHIEF DAVID SABO KENTE. FELICITATES WITH MUSLIM
By Aluta News
July 09, 2022
Chief David Sabo Kente, Taraba State front line politician and a philanthropist, heartily felicitate with the entire Muslim faithfuls especially Tarabans on this occasion of Eid-El-Kabir, urging them to imbibe the virtues of the holy Prophet's obedience to God's directive and will. He admonishes the Muslim Ummah in Taraba to reflect on the significance of the celebration, which he said bordered on sacrifice and love, noting that without these, no state or society could advance.
According to Kente "The significance of the season should be beyond the festivities.
The real essence for the celebration is to encourage total commitment to God," Kente further encouraged love for one another, care for the less privileged members of the society, and peaceful coexistence saying these are virtues which people must imbibe during and even beyond the Sallah celebrations.
Chief Kente use this medium to congratulate all Muslims who particularly participated in the holy rites of Hajj in Saudi Arabia, to mark this Sallah celebrations.
He however, enjoined the Muslim faithful to use the Eid-el-Kabir period to pray for the peace, prosperity and stability of the state and the country, adding that for the state to prosper and reach its full potential, the security of lives and property of people must be sacrosanct.
DSK Media Department,
9th July, 2022.