Hijab Day: Group urges NASS to pass religious discrimination prohibition prevention bill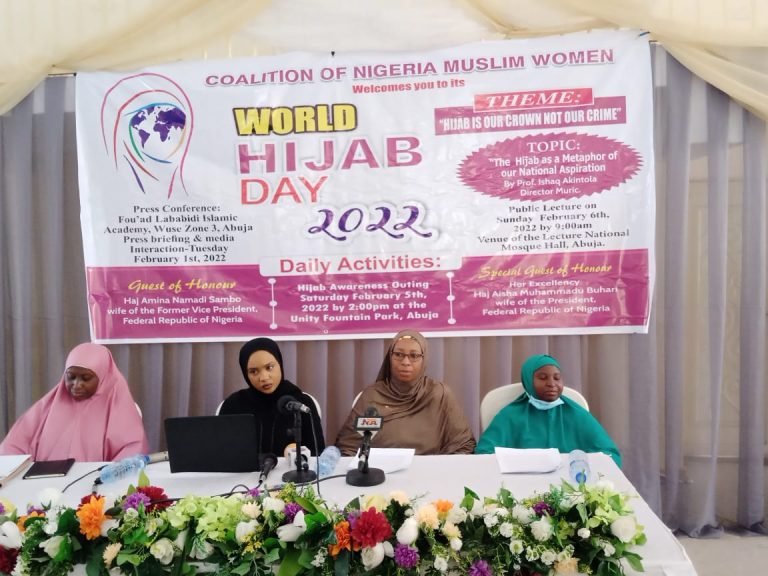 By Aluta News
Feb. 1, 2022
Coalition of Nigerian Muslim Women has urged the National Assembly to ensure speedy passage of the Religious Discrimination Prohibition Prevention Bill, 2021 to protect the rights of females to adorn hijab in public.
The Spokesperson of the coalition, Mrs Maryam Ahman, made the call at a news conference to mark World Hijab Day, held at Fouad Lababidi Islamic Academy on Tuesday in Abuja.
The News Agency of Nigeria (NAN) report that Feb. 1, is marked as World Hijab Day Worldwide to create awareness on the use of hijab.
Ahman said that the bill, which had passed second reading since March 2021, if passed into laws would provide a mechanism for enforcing certain provisions of the constitution and other international laws that recognise the right of women to hear hijab.
She also stressed the need for the national assembly to prevent the bill from entering the basement of discarded bills.
According to her, a lots of anti-hijab policies and instances are still prevalent and are witnessed in 2021.
Ahman called on the federal and state ministries of education to curb incidences of alleged unnecessary victimisation of students who wear hijab in schools and institution.
She also enjoined the federal and state ministries of education to guarantee the sanctity of Nigerian laws of freedom of worship, association and expression for all persons devoid of sentiment.
"We ask that the ministries take a decisive action by issuing and reissuing circulars to these schools to remind and caution them to protect this right of girls and ladies to wear hijab in schools and universities."
She also called on the National Youth Service Corps (NYSC) to introduce an optional set of uniform for Muslim female corps members that desire to appear in modest clothing.
Ahman said the current dress kit issued to corps members needed to be reviewed to recognise the right of Muslim corps members to conform to their values.
The spokesperson urged NYSC to set up a monitoring mechanism at orientation camps to ensure no corps member was denied the right to protect the sanctity of her beliefs by removing her hijab or being forced to wear items such as short nickers.
Earlier, the Coordinator of the coalition, Mrs Rahamah Sani, urged parents to ensure the training of their children according to the tenants and values of Islam.
"Parent should make their children understand that they have to practice Islam completely because you cannot negotiate the rules of Allah.
"So you can choose five daily prayers, fasting and then go out naked. Wearing of hijab is a necessity for a Muslim woman because it is part of Islam."
NAN