By Aluta News
February 01,2022
Coaching & mentoring Expert partner PLF to review Nigerians value system maximum growth
Yanmo Online Coaching Academy (YOCA) ,Aluta new Nigeria limited and Princeton leadership forum on Tuesday entered into partnership to review and build the value system in Nigeria for maximum growth .
Chuibike Echem president Princeton leadership forum
Yanmo Adetula,Chief Executive Officer of Yanmo and a Certified Coach made this known when she paid a courtesy visit to Mallam Sulieman Gambo CEO Alutanews Nig Ltd , and Chubuike Echem, President Princeton Leadership Forum respectively in Abuja.
Adetula said that the partnership became necessary because of some observations noted about Nigerians.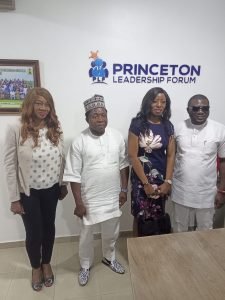 "I have observed quite a few things about Nigerians, they have a victim mentality ,they feel that every other person should actually sort them out .
"This is because they don't have core values, most of them don't know who they are ,your core values are very important because they are your principle guiding light .
"So because they don't know who they are ,time keeping is an issue ,finishing, is an issue ;they do not do things in an excellent manner ,they feel that they can take on more than they can chew ,just because they want the money.
"So all these different things are not helping the society at large,"she said
Adetula however ,said that citizens could start reprogramming their minds as a collective,the desired change would start to happen.
According to her, Nigeria is blessed with creative intelligent people ,however ,citizens core values ,and identity was missing.
"What will you stand by if you do not know that ,then we have to go back to the basis.
"It is easier said than done to get change and everyone does not like change but change is the constant in life so change for the better especially by attending seminars and trainings from different organisations ."
Adetula said that her initiative in Nigeria was to get the youth and women,women empowerment organisations, female NGOs to achieve this and our aim is to empower them, change the way they think about themselves.
"I am here in Nigeria to ensure that I empower the people by changing their mindset because I believe if the mind set is changed there is nothing any body cannot achieve."
" I believe if the mind set is changed there is nothing any body cannot achieve,
" it starts with the mind and once we can shift that mind,we can achieve anything.
She said she could be found on Facebook and Instagram @yanmoonline.cominstagram and can contact us in Nigeria on 07010402420 and can visit our website on www.yanmoonline.com .
Dr Echem said that his organisation champions youth development and empowerment in Nigeria .
He said that he was glad to work with YOCA to find a partnership ground in terms of reviewing the value system of Nigeria and the mentality of women and young people .
"We believe that until we get our people to that level where they begin to understand who they truelly are ,what works and what should actually be,we are not going to have a safe society and safe human beings .
"The Nigerian system is not doing enough to make youths have confidence in themselves ,everything rises and falls on values .
"You want to see a better civil servant?it begins with the type of value system that person has ,if you want to see a better politician ,it begins with the value of the individual."
He said that the Nigerian system was not doing enough in terms of value "but we are happy for organisations like this partnering today that is ready to take this up,"he said