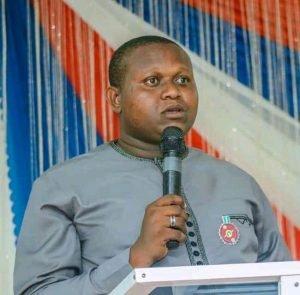 By Gambo Jagindi
September 07, 2020
NYCN threatens NLC over proposed Rivers State workers protest
The National Youth Council of Nigeria (NYCN), River State Chapter, has threatened to hold a parallel protest against the Nigeria Labour Congress(NLC) over the proposed Rivers state workers protest in Port Harcourt on Tuesday.
Mr Chijioke Ihunmo, Chairman, NYCN River State chapter made the threat during a telephone interview with Aluta News on Monday monitor from Abuja.
Ihumno accused the NLC of abandoning the Nigeria workers over rising prices of commodities, electricity bills and Premium Motor Spirit (PMS),instead embarked on political mission to destabilize the economy of River State.
He said that the Council "shall mobilize the teeming youths of the state for a parallel protest to resist the antics of NLC and in solidarity with the river state government."
He, however, advised the NLC President, Ayuba Waba, to resume negotiations table with the Governor or stay back in Abuja.
Ayuba Wabba, in a statement, had accused the Rivers State Governor, Mr Nyesom Wike of engaging Mr Chijioke Ihunmo and two local governments councils around Port Harcourt metropolis to engage armed thugs who would be used to unleash violence on workers during the protest scheduled for Tuesday
Waba warned that any attempt to disrupt the proposed rally on Tuesday September 8, 2020 would not only be another frontal attack against the Nigerian Constitution by Governor Wike but would also be a continuation of Wike's reign of impunity and ill-conceived ploy to exterminate Organized Labour in Rivers State.
According to him, the right to peaceful assembly and protest is not just a Constitutional Right as provided for and guaranteed by Section 40 of Nigerian Constitution, but also a fundamental Universal Human Rights protected by international treaties signed up to by Nigeria."
"We wish to send a final warning to Mr. Nyesom Wike, that in the event that any harm comes to any worker on September 8, 2020, Nigerian workers and the international labour community will hold him personally accountable.
"After all, he remains the Chief Security Officer of Rivers State."
"Instead of wasting the state resources in the prosecution of a needless war against innocent workers, we urge Governor Nyesom Wike to commit his time and the state resources to attend to the industrial concerns of the workers in Rivers State,"he said.