By Salisu Sani-Idris
June 2, 2020
COVID-19: Group to engage 10m youths to curtail spread of virus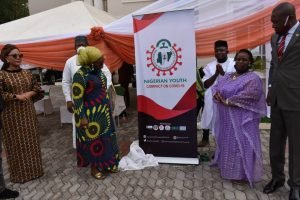 The Nigerian Youth Compact on COVID-19, a humanitarian outfit, says it will engage about 10 million youths to serve as information agents to mitigate the spread of COVID-19 in the country.
Chairman, National Steering Committee of the group, Malam Gambo Haruna, made the pledge at official unveiling of the Nigerian Youth Compact on COVID-19 in Abuja.
Haruna, a NAN staff, said that the unveiling of the compact marked the beginning of a paradigm shift in youth response and engagement in mitigating the COVID-19 pandemic that had taken its tolls on the global human population in all ramifications, especially in Nigeria.
He explained that the aimed of the project was to domesticate the Global compact for youth in humanitarian action and COVID-19 to complement Federal Government's efforts in the fight against the virus at all levels.
Haruna, therefore, said the compact was a wake-up call for all hands to be on deck in the humanitarian efforts to reduce the suffering of millions of Nigerians by addressing the humanitarian needs, risks and vulnerabilities.
According to him, the compact will form a framework for action, change and mutual accountability, against which youth can collectively assess and review progress during and beyond the pandemic.
" While recognising the fact that the Nigerian Centre for Disease Control (NCDC), the Presidential Task Force on COVID-19, and the Federal and State Ministries of Health have the primary responsibility to mitigate the impact of the pandemic in the country.
" We are conscious of the fact that the government alone cannot win this battle. As such it needs to partner with the Civil Society Organisations to achieve the desired objectives.
" The 'Nigerian Youth Compact', envisaged to engage about 10 million (10,000,000) Nigerian Youths in various Humanitarian and COVID-19 Response efforts across the country.
"These youth will serve as an information hub, where stakeholders can learn more about the pandemic and many of the major initiatives on COVID-19 and other humanitarian efforts.
"This, we hope, will be achieved through reliable and up-to-date information on the effects of COVID-19 on the Youth population, and how their response efforts from the Federal to community levels, can be obtained.
" The Compact will also serve as a dynamic advocacy and implementation tool for all stakeholders to advance their response efforts to the public domain and foster new commitments and partnerships.
" In the same vein, it will also provide report and testimony to the transformation that is taking place in various communities across the country.
"This is imperative for creating opportunities for meaningful engagement of young people in the fight against the pandemic, " he said.
Earlier, the FCT Minister of State, Dr Ramatu Aliyu, expressed optimism that Nigeria would come out stronger at the end of COVID-19 pandemic.
Aliyu said that the domestication of the Global Compact for Youth in Humanitarian Action and COVID-19 by the Nigerian Youth was commendable.
The News Agency of Nigeria (NAN) reports that the Global Compact for Youth in Humanitarian Action and COVID-19 was launched recently at the United Nations Headquarters in New York, United States of America, where more than 50 International Agencies made commitments to support the Initiative at National levels, across the world. (NAN)