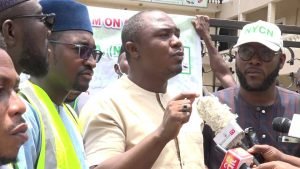 By Gambo Jagindi
April 08, 2020
COVID-19: FCT Youth Taskforce hails corporate organisations,individuals for donations, urges more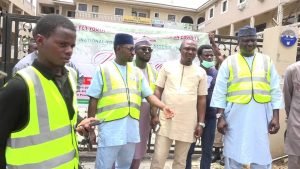 The National Youth Council of Nigeria (NYCN) youth taskforce on COVID-19 has expressed appreciations to some corporate organizations and individuals that had donated toward providing palliatives to the vulnerable residents of Federal Capital Territory FCT during the lockdown
Comrade Ango Abdullahi Suleiman, Chairman of NYCN FCT Chapter and leader of the taskforce made the call and commendation during a press briefing on the activities of the youth taskforce in Abuja on Wednesday
He also called for more financial donations to be channelled to the office of FCT Minister to enable the FCT Administration provide more palliatives to cushion hunger and suffering of the masses as a result of the lockdown.
Suleiman said that the full list of donors in FCT had been released to the taskforce and that the group still stand on its earlier threat to shutdown the operations of some companies that refused to perform their corporate social responsibilities to the residents, especially the masses of FCT masses with effect from April 9, 2020
The Chairman also commended the FCTA for the provision of three Hilux pickups to the taskforce for the sensitization of the communities in FCT
He also appreciated the contribution of the Senator representing FCT, Senator Philip Tanimu Aduda, for the donation of 1,000 bags of rice and 100 cartons of hand sanitisers.
Comrade Inusa Ahmadu Yusuf,the spokesman of FCT indigenous association said that the group was also advocating that the FCTA should consider integrating civil society organisations and youth groups into the palliative task team to ensure that the palliative get to the right people.
He called on the Federal government to urgently release whatever palliative due to the FCT "because hunger is biting harder on the poor masses."
Aluta News reports that the taskforce had threatened to lockdown companies, estate firms and institutions that refused to announce publicly and channel their contribution to the Minister of FCT.
The contribution is toward the provision of palliatives to the poor masses of Abuja.