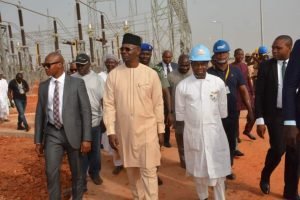 By Gambo Jagindi
January 21, 2020
Engineer Sule to visit NIPP, BPE  to fast track work on Lafia power substation
Nasarawa State Governor, Engineer Abdullahi Sule will on Friday, visit the Nigerian National Integrated Power Project (NIPP), as well as the Bureau of Public Enterprise (BPE), both in Abuja, in a move to expedite work on the ongoing power substation in Akurba, a suburb of Lafia.
Engineer Sule made this known while chatting with journalists shortly after undertaking an inspection tour of the power plant on Tuesday.
The Governor said it has become necessary to visit the two agencies in Abuja in order to facilitate work on the 330Kv substation ejection, that will see 33KV dropped, with six other lines taking out power to be distributed across the state.
Engineer Sule expressed satisfaction with the stage of the ongoing work, with the main power substation presently at 85 percent completion.
"Now we are talking about the distribution for the lines out. Six lines are going out to the various places. It now remains for the drop of the power coming from the main line, from the 33KV line.
"Hopefully, we will go and see if we can discuss with the officials concerned to expedite action on the contract award, because that is the most important part of the project right now," the Governor said.
According to the Governor, once the ejection substation is completed, the state will be powered, with the six lines going to Lafia, Akwanga, Doma, Assakio, Keana, Obi and other parts of the zone.
Engineer Sule thanked the contractor handling the project for ensuring that they are keeping up with their promises.
"They have finished most of the work, as far as the substation is concerned. It's now about the drop of electricity and taking it out to the people," he stated.