Again, Engineer Sule intervenes, to renovate GSS Akurba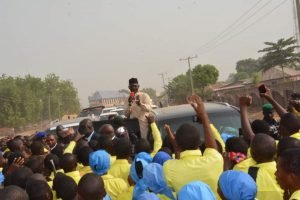 By Gambo Jagindi
January 21, 2020
Again, Engineer Sule intervenes, to renovate GSS Akurba
Nasarawa State Governor, Engineer Abdullahi Sule has again intervened, promising to send officials off the state government to evaluate structures at the Government Secondary School Akurba, with a view to renovating the school.
Engineer Sule, who was on his way back from the Akurba power substation on Tuesday, made a stopover at the GSS Akurba, where he interacted with students of the school.
The Governor told the students in their hundreds, that his administration's cardinal objective is to improve on the quantity and quality of education, stressing that officials will be on ground for evaluation latest Friday this week.
Engineer Sule expressed hope that some of the students of the school may become engineers who will later man the power substation in the area, noting however noted that the feat is not achievable unless schools are put in order, as well as employing quality teachers to teach in public schools.
While pointing out that his administration has just recently awarded various contracts for the construction of new schools, as well as the renovation of already existing schools, the Governor promised to confer with officials of the Nasarawa State Universal Basic Education Board to find out whether GSS Akurba was among the schools to be renovated.
"If this school is not part of those whose contracts have been awarded, I promise to send people who will come and renovate the school," he stated.
Earlier, while talking with leaders of the Akurba community that accompanied him to the power substation to show gratitude, Engineer Sule called on them not to allow their wards to be turned into political thugs.
The Governor emphasized on the need for parents in the area to send their children to school, in order to maximally benefit from the siting of the power project in the area.
He disclosed that, if the project is completed, indigenes of the area will be recruited to work on the facility but that such is only possible if the children go to school to acquire education.
"Don't allow your children to follow politicians around singing their praises only. Let then go to school so they can become useful citizens," he said.
It will be recalled that only recently, Engineer Sule intervened by ensuring that the Government Girls Secondary School, Garaku is being renovated.