By Eche Amos
January 5, 2020
HAJIYA SILIFAT ABDULLAHI SULE'S (Nassarawa First Lady ) EXCEPTIONAL LEADERSHIP QUALITIES*
From my personal observations, Her Excellency, Hajiya Silifat Abdullahi Sule is more popular than any State's First Lady in Nigeria today.
I may not have taken an audience poll to get varied opinions, but from my field of study which dwells more on investigation and data analytics, I have got better ideas of Her Excellency's popularity just less than one year since assuming office as First Lady of the State.
But, surveys aside, there is clearly something about Her Excellency many people, both in Nasarawa State and across divides, love and admire.
Do you want to know some of her celebrated qualities? She stands out as one of the most passionate and accomplishing First Ladies in the history of Nasarawa State and Nigeria, despite being fewer years in office compared to some of her counterparts, past or present, due to her charisma, compassion and unbending determination to make a difference wherever she goes.
Her special mix of talents and accomplishing trait make Hajiya Silifat a role model for thousands of women in Nasarawa State and around the country.
Though as a First Lady, Hajiya Silifat has the liberty to define her role as she deems fit, but upon assumption of office, she chose to address girlchild education, women's empowerment and protection of their rights as well as poverty alleviation and public health.
As First Lady and First Mother of the State, Hajiya Silifat applies herself to issues ranging from children's(mostly girlchildren's) education to the needs of widows and vulnerable people.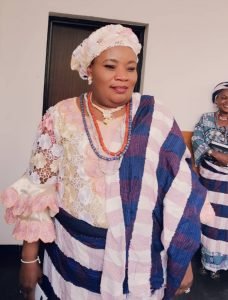 This included launching the Silifat Abdullahi A Sule Hope Foundation, SASHF,an NGO, aimed at tackling everything from leadership to poverty.
Our mummy also takes risk, as she is always found stepping outside traditional first lady stereotypes.
The first family have been an inspiration to many, and the legacy they have left and still leaving behind is partly owed to Her Excellency, Hajiya Silifat.
So, irrespective of your difference, it's pretty hard not to feel inspired and encouraged by Her Excellency's achievements as First Lady in less than one year of her assumption of that position … but also as a leader!
Having said the above, here are my ten leadership qualities of Her Excellency, Hajiya Silifat Abdullahi Sule and how they are helping to shape her legacy and inspiring many a people, including me.
1. *STRONG CHARACTER*: Mummy isn't your kind of First Lady. Her capacity to motivate, inspire and call others to action is deeply rooted in her strong personality.
Her strong character is helping her fight for social issues, regardless of how controversial they may be.
Mummy is also vocal and honest about some of the tough realities being faced by vulnerable and less privileged women and young girls in Nasarawa State, reminding them to remain strong and persevere against societal ills and odds.
Hajiya Silifat's stance on social issues makes her an iconic figure – and will continue to remain her legacy as it inspires courage in others to do the same.
2. *COMPASSIONATE*: When it comes down to it, leadership is about much more than having a "type-A" personality. It's about being compassionate to people from all walks of life – whether Christians or Muslims; Pagans or Buddhists.
But being a successful leader is more than just having good business skills. You also need empathy and compassion in order to build healthy relationships within an organization and the people you daily meet.
Mummy's compassion is her ticket to people's hearts. It helps her earn the trust and respect of her target audience and the general public.
3. *SELF CONFIDENCE* Her Excellency always stays true to herself and never lets what somebody else says distract her from her goals.
She encourages fellow women and young girls to believe in themselves, saying it has helped grown her capacity as a leader, unbelievably.
4. *POWERFUL SPEAKER* Her Excellency has some unique ways of captivating her audience, especially at events.
She has an amazing way of making people, especially women, feel as if they were part of something bigger. And she does so by sometimes relating her own experiences.
5. *PERSEVERANCE* Life isn't always easy. Many great accomplishments take a significant amount of time and hard work. Her Excellency's persevering spirit makes her achieve even the most seemingly difficult tasks.
6. *INSPIRATION* Needless to say, Her Excellency's visible and heard humanitarian programmes have inspired thousands, if not millions, of people.
Her relentless efforts to combat poverty, inequality and other social issues affecting women, girl child and the vulnerable in the society give her a sense of purpose that transcends political lines, religious and racial divides.
7. *HONESTY* Great leaders are honest about their strengths, weaknesses and expectations. This applies to the business world and any other life's endeavour.
Mummy is dedicated to many important social causes. And authenticity is one of her most valued leadership traits. Her success is largely attributed to her honesty as well as her dedication to show up each day and work towards her goals.
8. *GRACEFUL UNDER PRESSURE* Her Excellency speaks freely, walks with grace and portrays herself in a positive and respectful manner.
Whether you support her husband, Engr. Abdullahi A. Sule or don't' agree with him at all, it is difficult not to like the First Lady.
NB: The way you carry yourself says a lot about you and your values.
9. *RELATABLE TO OTHERS* As you can imagine, when you're the First Lady, it's very easy to become detached from reality.
Not Hajiya Silifat Abdullahi Sule!
Mummy is a down-to-earth leader, listening and talking freely with everyone, with her shared experiences resonating with thousands of women and young girls across the State.
10. *TIME MANAGEMENT* From her myriads of accomplishments to raising her children, Her Excellency makes it a priority to manage her time so she could focus on what is most important to her – with her husband and children always at the top of the list.
She defines her non-negotiables goals and is realistic about what she can manage – and what she needs to delegate or say no to.
Her Excellency, Hajiya Silifat Abdullahi A Sule, First Lady, Nasarawa State and Executive Director and Founder of Silifat Abdullahi Sule Hope Foundation,has been inspiring change through those rare leadership qualities, no wonder organizations, especially women-based and institutions in Nasarawa State continue to honour her with one award or the other, including the most recent ones by the Mada Development Association, Women's Wing, and the "ONYAWOLE K'OBI"title , which translates to "Woman of virtue" or "Woman, the Home Builder" bestowed on her by His Royal Highness, Osuko of Obi,an Alago ethnic group in the State.
May God continue to spare her life and that of her husband as well as her entire family to do more exploits in Nasarawa State and beyond.
God bless the Nasarawa State First Family.