By Gambo Jagindi
ECOWAS Youth Council Decorates Seyi Tinubu as an Ambassador…Honour Him with Nelson Mandela Leadership Award
The Economic Community of West African States (ECOWAS) Youth Council, Ambassador Seun Williams and his team, in recognition of his mission to give the youths an opportunity. Visited and honored Seyi Tinubu in Lagos today.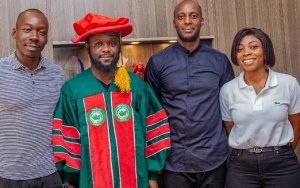 During the visit, Seyi was presented with Nelson Mandela Leadership Awards for Excellence, he was also conferred with and decorated an Ambassador of the council.
Seyi has been working assiduously to better the lives of teaming Nigerian youth through one project or the other through his Loatsad Company Corporate Social Responsibility (CSR) drive as well as through the Noella Foundation, an NGO he co-founded with his wife Layal to give back to the needy in the society, and since good works is difficult to remain hidden, accolades and awards has been coming in droves.
The award which is a move to encourage young West-Africans who are doing well in their respective works to do more has before now been given to other Nigerians like Kingsley Moghalu, the political economist who presidential candidate of the Young Progressive Party (YPP) to the 2019 presidential election, Mrs Juliet Ibekaku-Nwagwu, the Special Assistant to President Muhammadu Buhari on Justice Reform and many more Nigerians doing well in their respective field of work.
Receiving the award at the premises of his Loatsad Promomedia office, Seyi promised never to deviate from the qualities seen in him that made him deserving of such honour and encourage youths never to stop challenging themselves.