Meet a 9 year old Nigerian boy who developed website for his school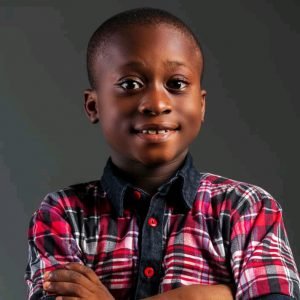 By Just News
Meet a 9 year old Nigerian boy Joshua Agbola who Developed a websites for his school
A genius like Joshua Agboola
In African traditional settings, proverb is said to be the oil used in eating a good yam.
The direction of this write up is however not an expose on proverbs, yam nor red oil.
The elders have a saying that, a child who understands the proper act of hand washing, would be entitled to wine and dine with elders.
In other words, the smartest boy with a digital brain would be opportune to tutor the oldest man with an analogue brain.
This is the case of Joshua Agboola, a 9 year old young programmer, web developer, and tech enthusiast who has risen from ranks to his present status in the digital space in Africa. At age 6, Agboola started his coding journey following briefs stints at Co-Creation Hub. He later settled for home coaching and within a short period of time developing proficiency in the use of HTML, CSS, javascript, jquery, boostrap, and basic PHP.
Education and Career
Joshua is currently a student of De-Joyland Schools and the overall champion of Afed competition. He is a prodigy who loves Mathematics, and also having a flare for Art.
He loves to play the point and he has showcased his keyboard skills on many platforms including AIT, NTA, and some YouTube channels.
It will interest you to know that the young Agboola leveraging on innovation and technology, developed a workable website for his school, thereby preferring solution
to the myriad of problems facing the digital world.
The young technocrat envisions a future where technology will be used in solving the many challenges confronting  Nigeria and Africa at large.
He currently runs a YouTube channel with the name "Joshuafortech". There he teaches and breaks down technology and programming concepts to kids and adults in an interesting, easy and inspiring way.
He was a speaker at Techpoint, the largest Tech Conference in West Africa where spoke on "The Future of Work". Also, he was invited recently at #TheWorkplan2019, a programme powered by RiseNetworks to enlighten the teeming Nigerian youth on "The Future of Work and the 4th Industrial Revolution Powered by Local Content".
With Joshua Agboola, the future of the Nigerian kids is secured; as he is not only a prospect to the country but also a pacesetter in the digital space.
It is on this note that the writer is calling on the concerned authorities, stakeholders and all other agencies (both national and international) to place more premium on the
Nigerian child development in order to live an industrial revolutionised Nigeria  in safe hands.
About the writer
Arogbonlo Israel is a writer, social media influencer and political communicator who is passionate about using media skills to impact the lives of the teeming Nigerian youth through engagement and constant interaction. He is the convener of the MBS initiative, a platform for raising the youth and other allied categories.