Re-Sule urged to change eldest wife as First Lady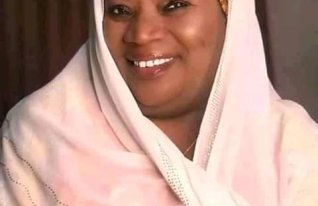 Re: Sule urged to change eldest wife as First Lady
By Ali Abare
Special Assistant Media
To Nasarawa State Governor
Ordinarily, this opinion penned by one Rebecca Audu and circulated on the Nasarawa Mirror, wouldn't have attracted the attention of particularly, discerning members of the public but for the fact that it was coming barely days after the unfortunate incidence regarding the video of Her Excellency, Hajiya Silifat Abudillahi Sule.
The recent sustained attempt to distract His Excellency, Engineer Abdullahi Sule from discharging his onerous responsibility to the good people of Nasarawa State through every means possible, is something that cannot be left unanswered.
Certainly, and like is the case with President Muhammadu Buhari, detractors who fail to find faults directly linked to the Governor, are resorting to picking faults from members of the first family, if only to distract Engineer Abdullahi Sule.
His Excellency, Engineer Abdullahi Sule is bringing to the table his hard earned reputation, impeccable character demonstrated by piety, fear of God, justice, fairness and above all, judicious management of resources.
His Excellency is equally bringing to the table an unequalled experience in the management of both human and capital resources, as demonstrated by his years at the helm of affairs in various companies across the organized private sector, both locally and globally.
Since his assumption of office as the Executive Governor of Nasarawa State, Engineer Abdullahi Sule has made it abundantly clear that it's not going to be business as usual and that both financial and human resources belonging to the state must be put to efficient and effective use.
As a leader who leads by example, His Excellency, Engineer Abdullahi Sule lives an open lifestyle for all to see and follow. He has no skeleton hidden in any closet.
This is a Governor who is generous in the use of his personal wealth for the cause of the people and state. His Excellency, Engineer Abdullahi Sule, based on his strict moral upbringing, and knowing full well, the weight of his new responsibility, turns to God at every turn, so he can be able to protect his oath of office and to discharge his responsibility with every sense of accountability, fairness and thrift.
I's surely amazing for Nasarawa State to have as Governor, an unassuming personality, who is down to earth, frank and with such a large heart. Engineer Abdullahi Sule pays his travel fares to attend official functions. This is a Governor that won't take a kobo that he could find no justification.
In fact, with His Excellency, Engineer Abdullahi Sule pointing the way, if we the followers allow him to show us the way, and not distract him by picking on members of his immediate family, Nasarawa State will be the better in the shortest possible time.
Unlike what some people like Rebecca Audu would think, mistakes, according to Nikki Giovanni, are a fact of life and that it is the response to error that counts.
What have been the response of most people since that video trended? Are they proffering solutions or stoking the fire so that the crisis will snowball and consume many others?
For Rebecca and others like her, what could be her reaction, if for a single mistake, her husband decides to divorce her and marry another wife?
Everyone makes mistakes, according to Mo'ne Davis and that everyone deserves a second chance.
As citizens of Nasarawa State who desire for the best thing to happen to our and in our state, we must shun tendencies capable of distracting His Excellency, Engineer Abdullahi Sule, so that he can bring to bear his sterling leadership qualities for our collective benefit.