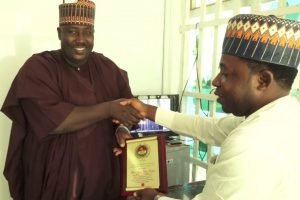 By Aluta News
December 06, 2021
Nasarawa electoral body chair dedicates Aluta News Award to Gov. Sule
The Chairman, Nasarawa State Independent Electoral Commission (NASIEC), Barrister Ayuba Wandai , has dedicated his Aluta News award to Gov. Abdullahi Sule of Nasarawa State.
Wandai bagged the award for the best State Independent Electoral Commission (SIECOM) Chairman of the year 2021, at the Aluta News Anniversary Lecture and Award Dinner, which held in Abuja.
He made this known on Monday when he visited the Aluta News office in Abuja.
The NASIEC Chairman was conferred with the award for what the publishers of Aluta News said was in recognition of his professional conduct in the just concluded local government election in the state.
Wandai said he was dedicating the award to the governor for providing all the logistics, moral support and the free hand to conduct the elections without interference, as enshrined in the law.
According to him, the recognition from Aluta News, means a lot to NASIEC and the entire good people of Nasarawa State,
"I am glad that our little effort has been so recognised. This will push us to do more when the next opportunity comes," Wandai said.
He further explained that in the past, local government elections were characterised by violence, manipulation and other negative vices, but that this time, NASIEC under his leadership changed the narrative by ensuring that the election was conducted in a peaceful and credible manner.
He, however, apologised to the management of Aluta News for his inability to be physically present at the Anniversary Lecture and Award dinner.
Earlier, the publisher and Chief Executive Officer of Aluta News, Mallam Gambo Jagindi, who presented the award plaque to the NASIEC Chairman, thanked him for the surprise visit.
Jagindi said Wandai merited the honour of Aluta Icon of Integrity 2021 in recognition of his credible performance during the last local government election in Nasarawa State.