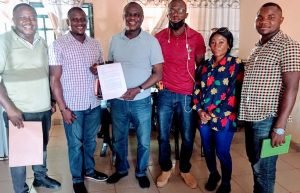 By Gambo Jagindi
March 25, 2021
USAID foster genuine reconciliation and social cohesion between Ungwan Bido and the displaced Fulanis in Jema'a local governments
The United States Agency For International Development Office Transition Initiative (USAID/OTI) have signed an agreement to facilitate a process that would engender a constructive dialogue and foster genuine reconciliation and social cohesion between ungwan Bido and the displaced Fulanis from Kussom area to Ungwan Gwandara communities in Gwong and Godogodo chiefdoms respectively.
Mr Simeon Dauda Jema,a local government information officer disclosed this in a statement to newsmen and made available to Aluta News in Abuja on Thursday
Mr Dauda said it is an initiative of the Council Chairman, Hon Peter Danjuma Averik
Adding that the program is expected to commence in April 2021 and would involve critical peace facilitation by the Southern Kaduna Joint Peace Committee (SKJPC).
By its design and purpose, the four day extensive peace engagement program would bring together key community peace actors from the two communities and the sessions are expected to address the fears and prospects of the communities and as well promote mutual togetherness,
In addition, about 40 peace volunteer youths, 20 from each of the communities would be trained on Early Warning, Early Response (EWER) strategy to improve and strengthen their capacity to identify early warning signs of possible danger and the practical ways to mitigate the situation, Dauda Said
The chairman Jema' a Local Government area, Hon Peter Danjuma Averik described peace as critical to improve economic wellbeing and promised he would double his commitment to ensure the calm atmosphere of relative mutual togetherness being enjoyed in the area is sustained.
Hon Averik commended USAID/OTI-NERI for their development intervention in the local government especially in the area of peace and security and assured them of people's good will and unflinching support.
He again used the occasion to call on the people in the area particularly the people in Ugwan Bido and the affected Fulanis in Ungwan Gwandara to embrace the peace process and to see it as a good opportunity to reconcile their seeming grievances and forged a better understanding in the interest of peace and development of their communities and the local government at large.
Also the Program Officer Nigeria Early Recovery Initiative (NERI) Kafanchan, Mr Daniel Ugbo Audu attributed the relative peaceful atmosphere in the local government to the peace-building efforts of the council chairman and encouraged him to sustain the effort.
According to Mr Daniel Audu, USAID/OTI-NERI was committed to the promotion of peace and heathy inter communal relationship without which he said government efforts towards poverty reduction and increase social wellbeing of the people would be futile.
Aluta News report that Ugwan Bido and the displaced Fulanis from Kussom area to Ungwan Gwandara communities have been good neighbors for over fifty years until the last year November crisis which plunged the two communities in a state of social unrest.
(Visited 17 times, 1 visits today)