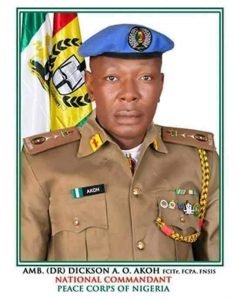 By Stephen Alechenu
April 04, 2021
Prof. Dickson Akoh Felicitate with Nigerians on the Occasion of Easter Celebration.
The National Commandant, Peace Corps of Nigeria, Prof. Dickson Akoh has said, Easter celebration is a time for second chance, and a new beginning. He made this statement in Abuja.
Prof. Akoh stressed that Easter celebration is a sign of liberation and as such we should be assured and thankful to God.
He noted that Easter which is also known as the Spring usher is one of the most cheerful holidays of the year, the special springtime occasion symbolizes hope, renewal and growth.
The National Commandant of the Corps noted that, christians, haven observed the season of Lent which proceeds Easter had time to reflect and turn away from sins, as well as prayed for the country, that we hope for.
He enjoined Nigerians to continue to live in Peace and Unity as that is a sure way we can attain the country we wish to have.
He urged both Christians and Muslims to embrace the teachings of Peace and Love for one another as enshrined in both religions, stating that this will help in the growth and development of our country Nigeria.
Easter he said, is a season of love and the assurance that the devil has no power to subdue us. So we should be encouraged to focus on positive things that will keep us in line with the teachings of God.
Wishing you and yours abundance celebration of sweet thoughts this Easter and beyond.
(Visited 71 times, 1 visits today)